Role of acid and non-acid reflux esophageal mucosal damage (erosive esophagitis and Barrett's esophagus)
Авторы: Кайбышева В.О. / Трухманов А.С. / Пономарев А.Б. / Сторонова О.А. / Коньков М.Ю. / Ивашкин В.Т.

Valeria Kaibysheva*, Alexander Trukhmanov, Andrey Ponomarev, Olga Storonova, Mikhail Konkov, Vladimir Ivashkin
First Moscow state medical university, Moscow, Russian Federation
Aims & Methods:The aim of this study was to access the role of acid (pH<4), weakly-acid (4<pH<7) and alkaline (pH>7) reflux in esophageal mucosal injury.
127 patients (75(59.1%) women and 52(40.9%) men, averaging 48.6 ± 14.9 years), off acid-suppressive therapy underwent upper-GI endoscopy with biopsy and combined esophageal pH-impedance monitoring.
According to data from pH-impedance study patients were subdivided into three groups by predominant characteristic of reflux: GERD with acid reflux (n = 65; AR); GERD with weakly-acid reflux (n = 36, WR); GERD with duodenogastroesophageal reflux (n = 26, DGER).
Results:Catarrhal esophagitis (NERD) was found during endoscopy in 55.4% AR group, in 86.1% WR group, and in 76.9% DGER group,(p (AR-WR) <0.05).
Erosive esophagitis (ERD) was found in 40%, 13.9% and 23.1% for AR, WR, DGER, respectively (p (AR-WR) <0,05). Esophageal ulcers were found only in AR group in 4.6%.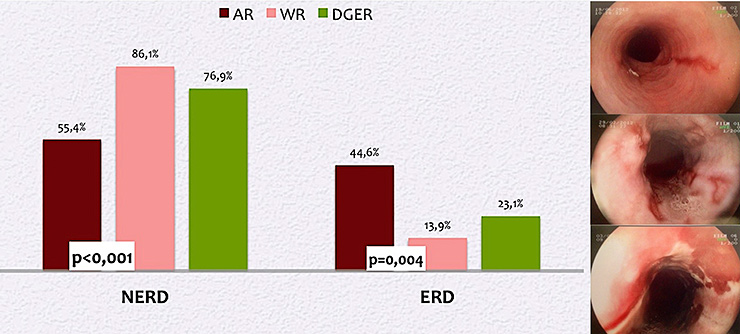 AR and DGER patients had significantly higher activity and degree of mucosal inflammation than patients in WR group (p<0,05).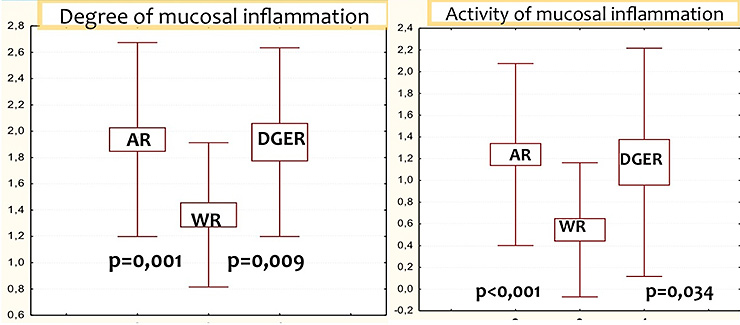 Endoscopic changes indicating Barrett's esophagus with histologic presence of esophageal intestinal metaplasia was found in 16%, 5.8%, and 42.9% for AR, WR, DGER, respectively (pAR-DGER<0,05; pWR-DGER<0,05).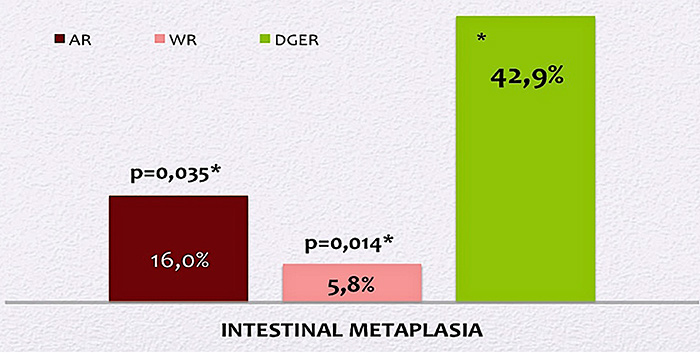 Conclusion:
Acid reflux is the key factor in causing esophageal injury, sue as esophageal erosions and ulcers.
Weakly acidic reflux does not contribute significantly to esophageal mucosal damage, but may cause catarrhal esophagitis.
Duodenogastroesophageal reflux plays an important role in developing Barrett's esophagus.
*Copyright©2014KaibyshevaV.O.valeriakai@mail.ru